Due to moving into an apartment closer to my university, I had to make the very hard decision to place Divot in another home that could give him the intensive work and training that he craves. He was an incrediably special dog with a character to match and I miss him terribly.
* Divot was neutered before placed.
Shoreland's Hole In One AD NA NAJ STDs STDd
*Divot*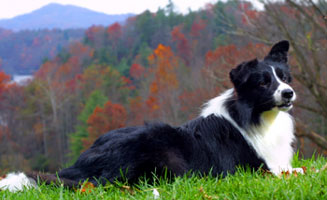 OFA Prelim Good
Eyes CERF Clear
Divot has just begun his agility trialing and is coming along. He is a very fast dog who can smoke the course if I handle him correctly! Divot is incredibly fun to train and wants to do everything at 100 miles an hour and never quits! Keep an eye on him as he gains more ring experience!



Divot is proving himself to be a natural and stylish herding dog. He is a powerful dog and it doesn't take much for him to move the sheep. He shows natural balance and low herding style. Divot has worked both sheep, goats, and ducks and I have to say he does love his duckies! Divot easily gained his Started Trial Dog title at his first ASCA trial on both ducks and sheep. He is still very new to herding but I hope to trial him more in the future.
Divot is a well built male with a handsome head, good angulation, and a sweeping side gate. He is just 3 points shy of his Ch and we hope to finish him soon when we have the time between agility, herding, and flyball! He has done well in the ring taking BOS over a top 5 ranked special!